Project led by LPI member receives an Innovation Award in the UK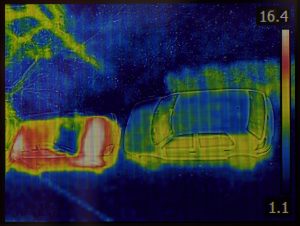 The project "Low-pixel Automatic Target Detection and Recognition" led by Dr. Pablo Casaseca at University of the West of Scotland with multinational electrical systems group, Thales UK and CENSIS received a Special Commendation Award at the Scottish Knowledge Exchange Awards 2018 . This collaboration saw the development of unique technology, enabling automatic detection of humans and vehicles from up to 1500m using thermal imaging.
The awards, which are run by Interface UK and were held at the Royal Bank of Scotland Conference Centre, Edinburgh on 22 February 2018, celebrate and reward impacts achieved through collaborative business and academic partnerships.
This collaborative project has many possible applications including robots with better eyesight and drones to spot defects in buildings before they collapse. The study is based around the concept of "deep learning" which mimics the way human brains behave to create an artificial intelligence that learns on the job.
The collaboration between UWS and Thales UK was set up by CENSIS, Scotland's Centre of Excellence for Sensor and Imaging Systems. It is one of eight innovation centres backed by the Scottish Funding Council to foster closer collaboration between academic researchers and industry.